Here is a sampling of some of the interviews I've given and press coverage for Art of Adventure and other projects:
Podcast Appearances:

Travel Stories Podcast S5E4: THE MAGIC TREE – DEREK LOUDERMILK: FATHER | DIGITAL NOMAD | TRAVELER
Ownstream Podcast: Derek Loudermilk – Scientist & Cyclist Turned Artist Of Adventure
The Mountain Top Podcast: EPISODE 93 BE A GREAT MAN OF ADVENTURE
Live Limitless Podcast with Matt Bailey: LL 023: The Art of Adventure with Lord Derek Loudermilk
Courageous Self Confidence Podcast: How to Live a Life of Adventure with Derek Loudermilk | Stories of Courage | 069
Zestology Podcast with Tony Wrighton: The Art of Adventure with explorer, scientist and podcast host Derek Loudermilk #47
How adventure can help us make better decisions with adventurer and explorer Derek Loudermilk #84
Positive Head Podcast #86: Interview with the host of the top-rated The Art of Adventure Podcast, Derek Loudermilk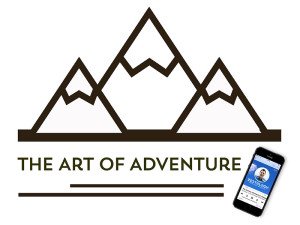 The Mind Aware Show: 0096 The Art of Adventure
Open World Podcast: #71 How to Optimize Your Life for Adventure with Derek Loudermilk
Consciously Speaking Podcast: Season 2, Episode 299: Derek Loudermilk – Adventurer, Coach & Podcast Host
Family Adventure Podcast: Ep 113 Uncharted Family
Looking for you Podcast: Ep. 19 | The Rockstar Approach To Creating Connection
Positivity Effect: 022 – The Art Of Adventure – Derek Loudermilk and 023 – How To Be More Charismatic – Derek Loudermilk
12 Minute Conversations with Engel Jones (world record challenge for # of podcasts in 3 months):
Twelve Minute Convos w/ Derek Loudermilk
Motivate Me Podcast: Get Some Adventure in Your Life with Derek Loudermilk
Essential Oil Educator: EOE 032 DEREK LOUDERMILK, THE ART OF ADVENTURE
Create Your Own Life Podcast: 35: Making Adventure Your Business; Derek Loudermilk
The Elite Man Podcast: The Art of Adventure – With Derek Loudermilk (Episode 52)
Keep Your Daydream: Ep 36: Expert Series – Confidence, Mindset and Adventure
The Flowstate Performance Podcast: TFPP 012: Derek Loudermilk- Self-reliance, evolution of our species and the Art of Adventure
Love Affair Travel Podcast:Â Derek Loudermilk: How to Balance Work and Travel
The Gen Y Success Podcast: (GYSS #73): The Art of Adventure and Its Role In Our Happiness with Derek Loudermilk

Cause An Affekt Podcast: CAE 005: Derek Loudermilk of The Art of Adventure Podcast
The Adventure Sports Podcast: Ep. 113: Pro Cycling, Adventure Travel, & Podcasting with Derek Loudermilk
Patreon Calling All Creators: 22 — Derek Loudermilk.  I use Patreon to sustain production of the Art of Adventure.  Click here to support me on Patreon!
Travel Wisdom Podcast: On career changes and how your past helps your future
TurnPoint Radio Podcast: On Being a Better Version of Yourself
Live Your Dance Podcast:Â  HOW TO BECOME A LIFELONG LEARNER WITH DEREK LOUDERMILK, HOST OF THE ART OF ADVENTURE PODCAST
Startup Lifehacks Podcast: EP 018: CREATING A BETTER VERSION OF YOURSELF W/ DEREK LOUDERMILK
Bond Appetit Podcast: Appreciate food and cultures through the Art of Adventure with Derek Loudermilk
Cubicle Crashing Podcast: Exploring the Adventure of Life Through Curiosity & Charisma
The Self Made Podcast: TRAVELING THE WORLD & LIVING THE ADVENTURE
No Easy Answers Podcast: Ep #42Â What is the modern day quest for discovery?
Inspired Works Podcast: IWP068: Have big purpose like MLK and Ghandi. Focus, Plan, Work Hard. Watch what happens.
Courageous Self Confidence Podcast:Â  Derek Loudermilk Interviews Samuel Hatton | Stories of Courage | 022
Life Athletics Podcast: Life Athlete Derek Loudermilk 
Nik Wood gave me the privilege of hosting his 50th episode: Nik Wood, Life Athlete, Interviewed by Derek Loudermilk
The DIY Learner Podcast: Episode 15 with Derek Loudermilk
The Superhero Lifestyle Show – Episode 08 – Derek Loudermilk – The Art of Adventure
Art of Adventure in the news:

St. Louis Post-Dispatch: ST. LOUIS RESIDENT DEREK LOUDERMILK DEVELOPS AUDACIOUS NEW PODCAST
Hubud, Live Speaking Presentations: How and Why To Podcast, The Art of the Interview, How to Connect with Successful People,
The Human Microbiome – What Lives In Your Gut and How It Affects You, Charisma On Command – How to Master Personal Magnetism